November 2019
| Mon | Tue | Wed | Thu | Fri | Sat | Sun |
| --- | --- | --- | --- | --- | --- | --- |
| | | | | 1 | 2 | 3 |
| 4 | 5 | 6 | 7 | 8 | 9 | 10 |
| 11 | 12 | 13 | 14 | 15 | 16 | 17 |
| 18 | 19 | 20 | 21 | 22 | 23 | 24 |
| 25 | 26 | 27 | 28 | 29 | 30 | |
Calendar


Hello guys,I am K1CKMYASS,today i will post this topic for the simple reason I'm so tired keep so...I spoof one old player of Clan Rotd as OCD in this case and get banned from Anonymous,i will type in this text right here now,i spoof for the simple reason,if i use my main account,Vampirism Ultra is now dead and the players still play that costum game,i never can't become his friend and so i never can't get a sking cause I'm a poor and my life is pretty hard.
And too dear Anonymou_s u cant call my ISP for leave me internet for one simple game or demolish my pc,i don't killed one poeple,i only simple spoofed one old player on one old game Wc3 Reign Of Chaos,too on one costum game.
I will congrats you for have created this game is really good,but i know you all have one heart and now i will promise stop spoofing but please count me,i play this game since 2009 with many account but i have no main account just then i will use forever this account
NoXiBiBdU,please can u give to me a last chance i love play Vampirism Ultra


NoXIbIbDu

Apprentice





Posts

: 5


Join date

: 2015-10-03


Age

: 102


ROTD Rank

: -.-Noo_B)-.-


Warn Status

:

---


Marine Statistics
MOS Specialty:


MOS Experience

:


(0/0)



I gave you too many chances. and you didnt just spoof 1 player you spoofed ALLOT, i_died, psyscope, OCD, Alphatroll, paladini, and allot more. go fck urself with that bs lie... I recently even reset almost all of the bans on the bot so that people could have another chance and what did you do? You spoof OCD and spoof psyscope on asia AND you still are using the account Paladini even after you told me you didn't have it anymore. You are a liar and you have spoofed way to many people already even before and after i gave you multiple chances. When i reset the ban list, that was your chance to play but instead you went ahead and made OCD and psyscope accounts to play on

You will stay permanently banned. I gave you multiple chances.
_________________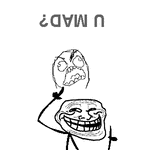 Anonymou_s

Administration:





Posts

: 748


Join date

: 2009-07-02


ROTD Rank

: Pandemic & Ultra


Warn Status

:

---


Marine Statistics
MOS Specialty: Force Recon - 0321


MOS Experience

:


(90/100)



I spoofed OCD cause now i use a shitty laptop and i can't good play,so with account OCD i can be admin for fun,sorry i promise stop spoofing,i know i deserve but...



NoXIbIbDu

Apprentice





Posts

: 5


Join date

: 2015-10-03


Age

: 102


ROTD Rank

: -.-Noo_B)-.-


Warn Status

:

---


Marine Statistics
MOS Specialty:


MOS Experience

:


(0/0)



_________________

ShadowThong

ClanRotd Bot Admin:





Posts

: 122


Join date

: 2012-01-06


Age

: 3


ROTD Rank

: I am Chocolate


Warn Status

:

---


Marine Statistics
MOS Specialty: [MOS Name & Number]


MOS Experience

:


(0/0)




---
Permissions in this forum:
You
cannot
reply to topics in this forum