January 2019
| Mon | Tue | Wed | Thu | Fri | Sat | Sun |
| --- | --- | --- | --- | --- | --- | --- |
| | 1 | 2 | 3 | 4 | 5 | 6 |
| 7 | 8 | 9 | 10 | 11 | 12 | 13 |
| 14 | 15 | 16 | 17 | 18 | 19 | 20 |
| 21 | 22 | 23 | 24 | 25 | 26 | 27 |
| 28 | 29 | 30 | 31 | | | |
Calendar


Hello

after the turbulent events of last night anyway I'd like to defend myself.

at first I present my apologies to thewildones well as al ROTD entire staff for the quality of the game and the server. I can be grumpy and silly but not a liar. I have post a screenshot removing the fog of war to show click on my wall. but I have nothing to change. That said, there s no place on the forum that shows a standard model has the post or I'll comply. I haven enfrain no rules of the forum. I understand that I have thewildones upset and disturb the players. I therefore accept the sentence of banishment but a permanent ban is hard because the fact of being able to play this mode already missing me. I ask you if you can m given a second chance please. because to play this game released in 2003 yet in 2015 it's great and it's going to be hard to play a more vampirism. I'm an idiot but I know question myself. thank you to you for taking the time to read me.

Regards

I used Google translation so sorry if not all os clear
Well to be fair, I agree that the perma ban is a little bit harsh, HOWEVER you should try and work on your behaviour and reduce the childish rages and outbursts ingame. Furthermore, next time you accuse someone of maphacking, post the replay to the forums and I'll be glad to review it and check it for you.

@Wildo: So from my point of view, please reduce the ban to 2 days instead of a perma. If he still shows toxic behaviour ingame then feel free to ban him permanently.
_________________
ClanRotd Bot Admin:





Posts

: 122


Join date

: 2012-01-06


Age

: 2


ROTD Rank

: I am Chocolate


Warn Status

:

---


Marine Statistics
MOS Specialty: [MOS Name & Number]


MOS Experience

:


(0/0)



I Know i have to stop flame and be Child

I want to say i am sorry for beeing idiot and i accept the consequence


Thanks you shadow
You have been unbanned. I will check into this.
_________________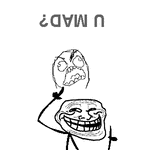 Administration:





Posts

: 748


Join date

: 2009-07-02


ROTD Rank

: Pandemic & Ultra


Warn Status

:

---


Marine Statistics
MOS Specialty: Force Recon - 0321


MOS Experience

:


(90/100)



Hi Anon

thanks you man  i promise i stop beeing toxic

regards
Sorry i never got round to reading this, was a little busy... xD

I was being a little excessive giving a perm ban, i admit. But your actions were still tainted and being immature on these forums is not acceptable.

But thanks for apologizing for your actions, i don't want to here anymore flame between you and lumpy either, i was not in the greatest of moods yesterday so you probably saw the worst side xD

Thanks!

TheWildOnes
_________________
Administration:





Posts

: 479


Join date

: 2012-11-11


Age

: 17


ROTD Rank

: LCpl.


Warn Status

:

---


Marine Statistics
MOS Specialty: Navy Corpsman


MOS Experience

:


(35/100)





Similar topics
---
Permissions in this forum:
You
cannot
reply to topics in this forum